You've heard her great performances on A Prairie Home Companion, now see her in person.
7:30 PM, Tickets: $15, Student/low income: $10
Claudia's coming back to Traditions, and we have learned to expect anything at one of her concerts a hymn, poem, bawdy verse, torch song, satire, and the gamut of emotions. Her musicality is astonishing, and her joy and love of performing are contagious.
Claudia Schmidt is contemporary folk music's front-line ambassador of wonder."
– Dirk Richardson 
San Francisco Gate 
"Her music comes from many styles, sources and influences. Yet it carries a sense of adventure and integrity in every song she does. Schmidt's voice has a strength and soul of its own."
– Allen Price, Folk & Acoustic Music Exchange 
Michigan born Claudia Schmidt has been a touring professional for over twenty years traversing North America as well as Europe in venues ranging from intimate clubs to 4,000 seat theatres, and festival stages in front of 25,000 rapt listeners.  She is known on radio and TV, including regular stints on Public Radio International's "A Prairie Home Companion" in its early incarnation. She participated in the delightful Les Blank movie "Gap-Toothed Women," contributing a song as well as an interview. She wrote an award-winning score and performed in the Goodman Theatre's Chicago production of Brecht's "Good Person of Szechuan."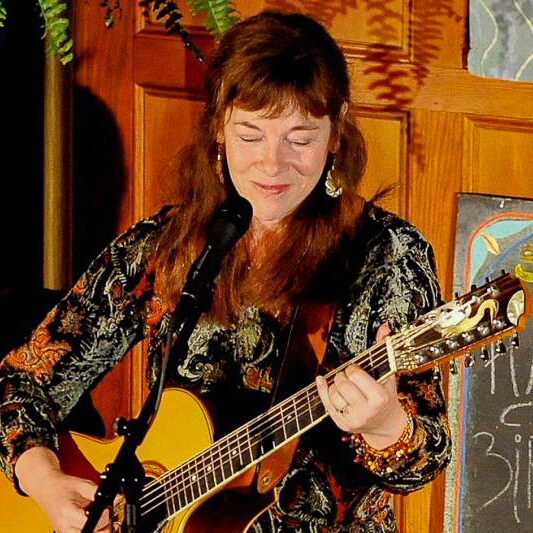 A musician who has always hated categories, she describes herself as a "creative noisemaker," which has irritated some critics but delighted many audiences, who learn to expect anything at a Schmidt concert, hymn, poem, bawdy verse, torch song, satire, and the gamut of emotions. Her live performances are not to be missed. Her musicality is astonishing. Her joy and love of performing are contagious. She can weave the elements of music and stage into a program so unified and full of life that one critic has described a Claudia Schmidt concert as " . . . a lot like falling in love.  You never know what's going to happen next, chances are it's going to be wonderful, every moment is burned into your memory, and you know you'll never  be the same again."