Greta Matassa with John Stowell, and Clipper Anderson
7:30 PM, Tickets: $20, Student/low income: $12
In the Pacific Northwest, where she built her career, Greta Matassa wins wide acclaim; four times, the readers of Earshot, the Seattle jazz magazine, have voted her the best jazz vocalist in the Northwest. Jim Wilke, the Seattle jazz maven and host of the syndicated "Jazz After Hours" radio program, praises her versatility. "She has a fearlessness in approaching material," Wilke says, "that makes her like an instrumentalist in a jam session."
Portland's luminary jazz guitarist John Stowell returns to Traditions. As Larry Corryell has remarked about John "John Stowell plays jazz, but he doesn't use any of the clich's; he has an incredible originality. John is a master creator." Clipper Anderson is a well-respected Seattle jazz bassist.
Greta has been a mainstay on Seattle's Jazz stages for many years and with her recent successful dates at New York's Dizzy's Club at Lincoln Center, tours of Russia, Singapore and Hawaii, Japan, New Orleans and LA, Greta's sound is now reaching new audiences. Greta has released 10 CD's on the respected jazz label Origin Records and a DVD live concert with guitarist Mimi Fox. Her latest CD, "I Wanna be Loved" (Resonance Records) was critically acclaimed.
Greta has appeared with many notable jazz musicians including: John Clayton, Jeff Hamilton, Houston Person, Russell Malone, Mike Stern, Tamir Hendelman, Bruce Forman, Josh Nelson, John Pizzerelli, Mike Wofford, Holly Hoffman, David Frishberg, Mimi Fox, Peter Bernstein.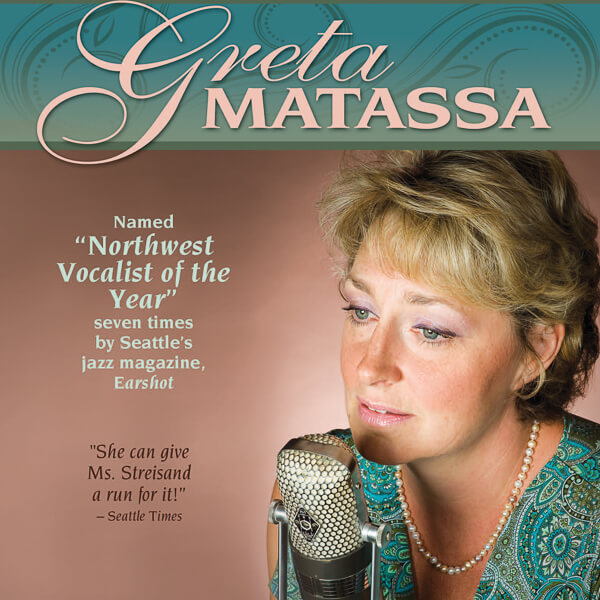 "Boppish, snappy and conversational"
—Downbeat
"Her scatting is as confident, nimble an energetic as Ella's and her phrasing is hip like Nancy Wilson's"
—Earshot Jazz
GRETA MATASSA is one of the most talented singers working in jazz today.
She has been voted "Northwest Vocalist of the Year" by Earshot Jazz seven times in 15 years! She was voted again, Vocalist of the Year in 2014 and honored with a lifetime achievment award and inducted into the Earshot Jazz Hall of Fame in 2014.
Greta is also a respected and generous teacher. She has been on faculty at Jazz Camp West, Drayton Harbor Jazz Festival and The Fairbanks Summer Arts Festival. She has a thriving private teaching practice is a regular clinician at jazz festivals internationaly.